Trust is a complex, multidisciplinary topic which is of increasing interest to scholars, practitioners and the general public.
The aftermath of the global financial crisis and the recent scandals in a number of sectors such as banking and food retailing have created profound disquiet. Such scandals have highlighted hidden vulnerabilities which result from the management of supply chains, the interconnectedness of organisations and dependence on the judgement of anonymous others. This has renewed interest in issues such as transparency, control and regulation and the balance of power between individuals, organisations and governments.
Since 2001 First International Network of Trust (FINT) has provided a forum for trust scholars and other interested parties to discuss and share their insights in order to create and pursue an international research programme which explores trust within and between organisations. Previous conferences/ workshops have brought together interested parties from a range of disciplines and more than 20 countries.
The 2014 conference will continue that tradition and will be hosted by Coventry University; a University based in a city which has emerged from the destruction of war to become a world centre for peace and reconciliation so providing an appropriate backdrop for the exploration of trust.
Following the Singapore conference full details of the calls for papers and sessions plus practical arrangements for the Coventry conference will appear on this page in the coming weeks.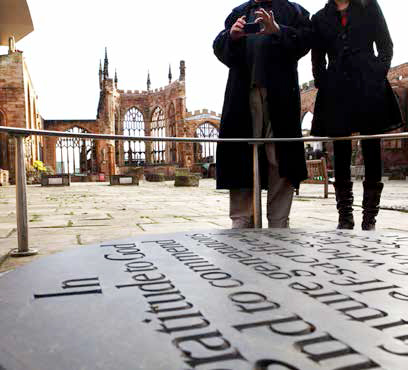 In addition to the usual academic conference format, we will seek to broaden the range of inputs at this conference to include sessions involving representatives from government, business and the third sector to consider and examine how and why trust matters to individuals, organisations and communities. The nature of trust as a multidisciplinary concept and shared human experience requires a broad call and we will invite contributions that consider trust from a range of perspectives, contexts and methodological approaches. However, we would be particularly interested in exploring ideas relating to the current and future state of trust and trusting; the role that trust plays in the context of community, intercultural dialogue, peace and reconciliation; how trust is being used and integrated in organisations in the context of the trust repair agenda; the relationship between trust and sustainability and trust and organisational metrics.
FINT 8th Workshop : 4th - 8th November 2014